I love pesto - we grow our own basil which is flourishing right now, which makes me want to try and incorporate some of it into baked goods.
I found a recipe for braided pesto bread - I think I'm going to give it a try this weekend.
Original Source is here:
http://www.thebrewerandthebaker.com/archives/13059
Braided Pesto Bread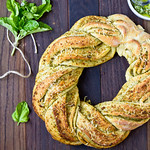 A beautiful, twisty wreath of bread made with fresh basil pesto from the garden.
Ingredients
For the bread:
1 cup warm water
2 tsp yeast
2 1/2 cups flour, plus more for dusting work surface
1 Tbsp olive oil
1 tsp salt
For the loaf:
~1/2 cup pesto, purchased or homemade
2 Tbsp grated parmesan
Instructions
Place warm water in the bowl of your stand mixer fitted with the dough hook and sprinkle yeast over top.
Let sit 10 minutes - if the yeast doesn't get frothy or swell, toss it and go buy new yeast.
Add the flour, oil, and salt and turn the mixer to low.
Knead the dough for 5 minutes until smooth and elastic - after about 2 minutes, the dough should completely clean the bottom and sides of the bowl. If it does not, add additional flour, one spoonful at a time until it does.
Form the dough into a smooth ball and transfer to a lightly greased bowl (I just use the mixer bowl) and let rise until doubled (~1 hour on the countertop, quicker in a slightly warmed oven).
Preheat oven to 425.
Lightly flour your work surface.
Gently stretch and elongate your dough round.


Roll into a rectangle ~18x12 inches.
Spoon pesto over top, spreading evenly, leaving a clean 1/2-inch border around the edges.


Roll the long side of the dough to you and pinch the seam closed.


Transfer to your parchment-lined or cornmeal-dusted baking sheet.
Cut the dough in half down the length of the dough and pinch the top ends together.
Working quickly, braid the two pieces, trying to keep the pieces twisted so the cut ends remain on top (this is what makes the bread pretty).


When you get to the bottom, pinch the ends together and wrap into a wreath.


Transfer to your baking sheet and let rest for 30 minutes.
Top with shredded parmesan and bake for ~25 minutes, until golden brown.
Let cool slightly and slice to serve.