Ingredients

1 (12 ounce) package egg noodles (or any kind of noodles)
2 cups frozen green peas (or mixed veggies)
2 (10.75 ounce) cans condensed cream of mushroom soup
2 (8 ounce) cans of sliced or chopped mushrooms, drained
2 (5 ounce) cans tuna, drained
1 medium onion, chopped
2 cups shredded cheese
1 Tablespoon of dried Basil
garlic powder to taste
ground black pepper to taste



Directions

Bring a large pot of water to a boil. Add noodles and frozen peas. Cook until noodles are al dente, drain well. Return noodles and peas to the pot.

In a separate bowl, whisk soup and spices together. When mixture is creamy, mix in tuna and onions.

Fold in noodles and peas into soup mixture. Pour mixture into buttered casserole dish.

Sprinkle cheese on top of casserole. Bake covered, at 350 for 20 minutes. Remove cover of casserole the last 5 minutes of baking.

Serve.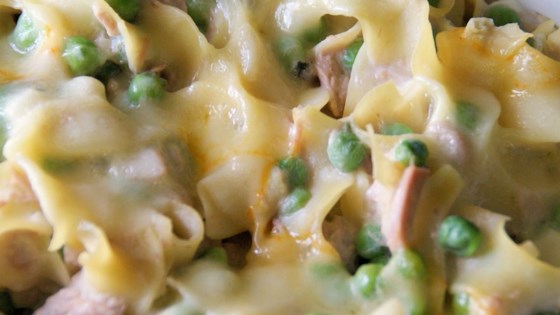 You can substitute leeks, chives, or shallots for the onions.
You can substitute spices for whatever you like.
You can substitute peas or mixed veggies for chopped broccoli and/or squash.