"This pastry was created in 1910 by Louis Durand, pâtissier of Maisons-Laffitte, at the request of Pierre Giffard, to commemorate the Paris–Brest–Paris bicycle race he had initiated in 1891. Its circular shape is representative of a wheel. It became popular with riders on the Paris–Brest cycle race, partly because of its energising high calorific value, and is now found in pâtisseries all over France."
I had a go at making this. Quite a project! I made the various elements over about 3 days. I've included photos of the process for anyone interested. It's a choux pastry coated with sliced almonds and a hazelnut almond praline mousseline filling.
To begin the praline paste process, I roasted hazelnuts to remove the bitter skins. Rubbing them between a tea towel got rid of most of the skins. I also blanched some and blanched some almonds and roasted them. Blanching was much easier and quicker than I expected and it completely took off the skins. With the hazelnuts, I had to add some bicarbonate of soda to boiling water which made quite a foamy mess and turned the water very dark and dirty, but it worked a treat! I actually made two lots of praline paste as I wasn't sure about the first one. The first batch was very dark and all hazelnuts with a strong but lovely hazelnut praline aroma and taste just like you get in praline chocolates. The second batch was with the blanched almonds and hazelnuts and a lighter peanut butter colour, a less distinctive nut flavour and quite sweet. I decided to mix the two batches together and that made a lovely paste while taming the slightly too strong nutty taste of the first batch.
I then caramelised sugar with water and threw the nuts in to coat them.
I let them set into a hard nut brittle, broke it all up and threw it all into the food processor. I kind of damaged the blades a bit because of the initial breaking up of the hard caramel. It eventually turned into a praline paste with the aid of a teaspoon of olive oil. Some people seem to get the paste without any oil, but maybe they have a more powerful processor. Or maybe it's because I need something like a nutribullet which has a smaller area to compress the nuts to extract the oils.
So then I made a creme patissiere and let it cool overnight. Then I put it into the stand mixer, added room temperature butter, whipped it up and then added some of the praline paste. This became a very light and delicious hazelnut mousseline. Although I must say, it didn't really have the buttercream/mousse/whipped cream type texture. I'm wondering it that's because I did it with a handmixer and maybe it would have done better in the stand mixer with the paddle and for longer. Still, it tasted very nice.
I then made the choux pastry. I think i just about got the right consistency before piping, possibly could have been a bit thinner to really get that V shape dripping off the paddle as I saw demonstrated in videos. I drew 3.5" circles onto baking paper and piped inside them. I liberally sprinkled sliced almonds on top. I baked at 350c for 20 minutes and then turned it down to 325c for another 30 minutes. They came out really nice, light as air. But I think would have been fine with 10 minutes less baking. I think the insides should have been softer. After cooling, I sliced them in two, piped the cream into them, put the tops on, and dusted with icing sugar.
Fortunately I've got lots of the praline paste left to make more of these amazing pastries!
So here's some photos of my process from start to finish. Some photos I uploaded externally as I used up the 10 photo limit, and those ones need to be clicked on separately to get fullsize.
Blanched and roasted nuts. Nuts coated in caramelised sugar, then set hard, then ready to be blitzed!




Finished Praline pastes with plenty left for next time. Apparently it stores well for a few months.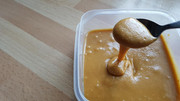 Piped choux pastry with a Wilton 1M nozzle, brushed with eggwash and sprinkled with almonds.



Whisking some of the praline paste with the mousseline cream.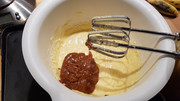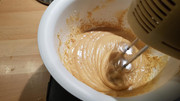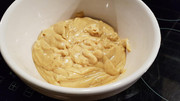 Baked Choux pastry just out of the oven.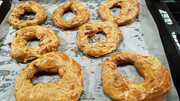 My piping left a lot to be desired, if these were bicycle wheels I think I'd crash!
And the final pastries!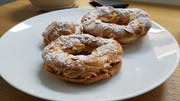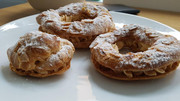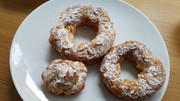 Last edited: