This was a link that my friend sent me for some delicious sounding Chai Cheesecake bars with pumpkin spice ganache. She knows my affinity for both flavors and sent me the recipe. I haven't tried to make them yet but thought I would share for any fellow chai/pumpkin spice fans...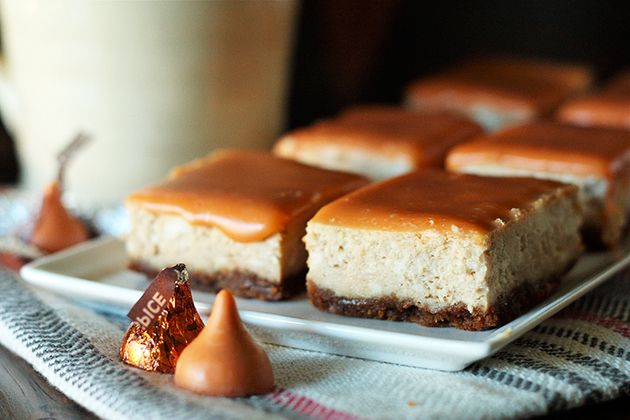 Ingredients:

For the crust:
1 1/2 cups crushed Biscoff cookies (about 27 cookies/1 package)
3 tbsp. packed brown sugar
6 tbsp. butter, melted
For the cheesecake:
3 (8 oz.) packages of cream cheese, softened
1/2 cup sugar
½ cup dry Chai Tea Mix - not liquid chai tea mix
2 tbsp. flour
3 eggs
1 cup sour cream
1 tbsp. vanilla extract
For the Pumpkin Spice ganache:
1/3 cup heavy whipping cream
4 tbsp. butter, cubed
15 Pumpkin Spice Hershey Kisses
If making Dark Chocolate Ganache: (optional variation)
1 cup Dark Chocolate chips
⅓ cup Heavy Cream
4 Tbsp Butter, cubed
Directions:
Crust:
In a food processor, pulse Biscoff cookies until pulverized and no large chunks remain.
In bowl mix together cookie crumbles with butter and brown sugar. Press into a 13x9 inch pan and set aside.
For cheesecake:
Preheat your oven to 325 degrees. In stand mixer, beat cream cheese until smooth. Scrape down sides of bowl to ensure all cream cheese is smooth. Beat in sugar and chai tea mix until throughly mixed. Add in flour and beat again. Add eggs one at a time, mixing for about 30 seconds between eggs. Beat in sour cream and vanilla extract. Scrap into the 13x9 inch pan and smooth. Bake for 45 minutes.
Remove from oven and allow to cool completely.
For Pumpkin Spice Ganache or optional Dark Chocolate Ganache:
In a microwave safe bowl, add pumpkin spice Hershey Kisses, pouring heavy cream and cubed butter over the top. Place in microwave and heat in 30 second intervals on 50% intensity. Stir in between intervals and cook until chocolate/Kisses have just melted. Do not over cook and burn the chocolate.
Pour Pumpkin Spice Ganache/Dark Chocolate Ganache over the top of the completely cooled cheesecake bars. Wait for ganache to cool completely or chill for at least 30 minutes. Slice, serve and devour.
Credit for the source:
http://www.countrycleaver.com/2012/10/chai-cheesecake-bars-with-pumpkin-spice-ganache.html